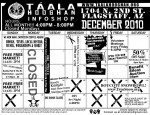 Taala Hooghan Infoshop Events
December 2010
Volunteer meetings every Friday at 5:30PM
Hip Hop/Break Dance Classes every Tuesday at 5:30 – FREE!
Warm clothes donations are critically needed for the FREE BOX!
1st – Open Mic – 6:30pm
2nd – Movie Night "TBA" hosted by Flag IWW – 6pm
5th – Free Free Market – 11am-2pm
8th – DIY Art Night – 6:30pm
9th – Green Scare Awareness Event & Movie Night "Testify: Eco-Defense & the Politics of Violence"- 6pm
Political Prisoner letter writing starting at 4pm
10th – Open Pow-Wow Drumming Practice – 7pm
11th – 50% Off Sale! All Books & Shirts – 4pm-8pm
12th – All Ages Show: Buddy Hall & The Es, Halfwindsor & Guests – 7pm – $5
15th – DIY Art Night – 6:30pm
16th – Movie Night "Red Gold: The Pebble Mine Debate
– 6pm
The film follows the subsistence and commercial salmon fishermen of Bristol Bay, Alaska, as they work tirelessly to make their living off the land and water, and combat the proposed open pit gold and copper Pebble Mine.
18th – Benefit Silent Auction – 6pm
(Donations needed, email infofosho@gmail.com)
19th – Free Free Market – 11am-2pm
21st – Winter Solstice! Benefit Keshjee (Dine' Shoe Game) – 7pm
21-26 – Closed
28th – Open (No Dance Class)
30-31 – Closed