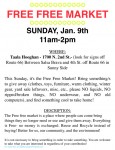 ✪✪✪✪✪✪✪✪✪✪✪✪
FREE FREE MARKET
✪✪✪✪✪✪✪✪✪✪✪✪
SUNDAY, Jan. 9th
11am-2pm
WHERE:
Taala Hooghan – 1700 N. 2nd St.- (look for signs off Route 66) Between Salsa Brava and 4th St. off Route 66 in Sunny Side
This Sunday, it's the Free Free Market! Bring something/s to give away (clothes, toys, furniture, warm clothing, winter gear, yard sale leftovers, misc, etc.. please NO liquids, NO ripped/broken things, NO underwear, and NO old computers), and find something cool to take home!
DESCRIPTION:
The Free free market is a place where people can come bring
things they no longer need or use and give them away. Everything is Free- no money is exchanged. Reuse and Recycle instead of buying! Better for us, our community, and the environment!
It is not necessary to bring something in order to take something. You are welcome to take what you are interested in regardless of your contribution!
For more info: arizonablueskypearl@gmail.com