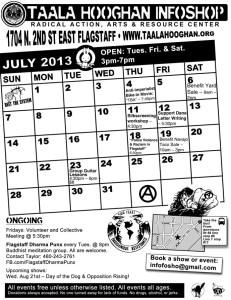 Ongoing:
Flagstaff Dharma Punx every Tues. @ 8pm
Buddhist meditation group. Reading, 30 min meditation, & discussion. All are welcome.
Contact Taylor: 480-243-2761 – FB.com/FlagstaffDharmaPunx
Volunteer Meetings every Fri. @ 5:30pm
We need your support!
Become a monthly sustainer: http://www.taalahooghan.org/monthly-sustainer/
Bike Maintenance – parts and volunteer work needed to fix bikes for an upcoming OYBM.org benefit!
Email: oybm@oybm.org for more info.
MamaBears AgainstNukes 4th July Freedom from Imperialism BBQ, 4pm, Hwy 64 MP219-220, between Valle and Tusayan, at the anti-uranium mining encampment. Shut Down Canyon Uranium Mine! Support Dine Ban Initiative- Ban Wate Uranium Mine on the Big Boquillas! Save the Confluence! No Uranium Fracking at Church Rock! Hands off Mt Taylor! In Solidarity with Idle No More
www.facebook.com/mamabears.againstnukes
Thurs. 4th – Anti-imperialist Bike-in Movie: "TBA" – 7:45pm
Ride your bike, watch a movie, smash the state!
Sat. 6th – Benefit Yard Sale – 9am – 2pm
Donations needed! Drop 'em off when we're open!
Thurs. 11th – Silkscreening – 4:30pm
Learn how to print your own shirts!
Fri. 12th – Support Dane Letter Writing – 5:30pm
www.supportdanerossman.blogspot.com/
Cops have abducted our friend Dane Rossman. Dane is being charged for actions relating to anti-G20 protests and has been extradited to Canada. He needs our support!
Thurs. 18th – Rootbeer & Revolution Discussion: "Police Violence & Racism in Flagstaff" – 6:30pm
Share your stories. We will also discuss knowing your rights and what community accountability for law enforcement can look like. Law enforcement agents, employees, or former employees/agents not welcome.
Fri. 19th – Benefit Navajo Taco Sale – 10am – 3pm
Tues. 23rd – Group Guitar Lessons – 4:30pm – 6pm – $8
Something for beginners & intermediate players. Please bring a guitar if you have one. We will have a few available. Lessons by Klee Benally. Limited to 8 participants. $8 suggested donation (to benefit the infoshop). RSVP: infofosho@gmail.com.
Upcoming shows:
Wed. Aug 21st – Day of the Dog & Opposition Rising!