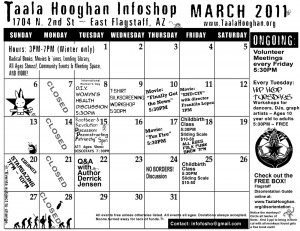 Taala Hooghan Infoshop Events – MARCH 2011
Hours: 3PM – 7PM
Tues. – Sun.
Closed Mondays
All events all ages & free unless noted.
~~~~~~~~~~~~~~~~~~~~~
ONGOING:
Every Tuesday: Hip Hop Tuesdays!
Workshops for dancers, DJs, graph artists ~ Ages 10 year old to adults
5:30PM ~ FREE
Every Friday: Volunteer Meetings at 5:30PM
Learn more about this community space and how you can help!
~~~~~~~~~~~~~~~~~~~~~
MARCH 2011
Tues. 8th – DIY Womyn's Health – International Women's Day – 5:30PM
Wed. 9th – T-shirt Silkscreening Workshop – 5:30PM
Learn all the steps for making your own tshirts.
Bring a tshirt or something to screen on!
Thurs. 10th – Movie Night: "Finally Got the News" – 5:30PM
A forceful, unique documentary that reveals the activities of the League of Revolutionary Black Workers inside and outside the auto factories of Detroit.
Sun. 13th – Movie Night: "END:CIV" with director Franklin Lopez – 7PM
END:CIV examines our culture's addiction to systematic violence and environmental exploitation, and probes the resulting epidemic of poisoned landscapes and shell-shocked nations.
Tues. 15th – Root Beer & Revolution: "Deconstructing Patriarchy" – 5PM
An open discussion on deconstructing patriarchy.
All Ages Show: Discotays – 7:30PM
Thurs. 17th – Movie Night: "Foxfire" – 5:30PM
The story of five teenage girls who form an unlikely bond after beating up a teacher who has sexually harassed them.
Fri. 18th – Childbirth Class – 5:30PM – Sliding Scale $10-50
All Ages Folk Punk Show – 7PM – $5
All Ages Folk Punk Show – The SMASH ARIZONA Infoshop Tour
– 7PM – $5
Travis James, Jessie Williams, Ari & Her Banjo, Josue Tzu, D.S., & an entire crew of ravenous cretins are setting out from Phoenix on the dark and foreboding Terror Bus to destroy, maim, and otherwise make the rest of Arizona uncomfortable .
Sun. 20th – Equinox Stargazing – 7PM – 10PM
Telescope viewing. Come learn about the stars!
Tues. 22nd – Q&A with Derrick Jensen – Time: TBA
Author Derrick Jensen will be joining us via video chat for a Q&A session.
Thurs. 24th – No Borders Discussion – Time: TBA
Fri. 25th – Childbirth Class – 5:30PM – Sliding Scale $10-50