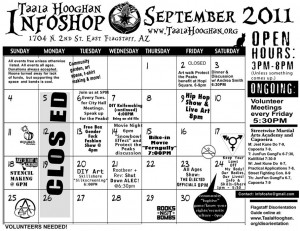 Greetings,
Thank you to everyone who donated so generously last month, we certainly couldn't do it without your support! Join us for these upcoming events or stop by to hang out. You can also stop by and pick up some printed calendars.
– Taala Hooghan Collective Volunteers
Open Hours: unless otherwise noted
3pm-8pm Wednesday – Sunday
3pm-5pm Tuesdays – Join us at City Hall – Speak up for the Peaks!
Mondays are closed for pie!
Volunteer Meetings:
Fridays @ 5:30pm
Friday 2nd – art walk benefit at Flagstaff Photography on the Square at Hopi Square. 6-9pm (closed at Taala Hooghan)
Saturday 3rd – Q&A with Andrea Smith 6:30PM
Dinner (with vegan options) will be available for a $4-10 donation.
Friday 9th – Hip Hop Show Live Art – 8pm
Tuesday 13th – Free Box Gender Fuck Fashion Show @ 4pm
Wednesday 14th – Movie Night 6pm – Snowbowl Effect and Protect the Peaks discussion
Thurs. 15th – Bike-in Movie "FernGully: The Last Rainforest
" 7:00PM
The magical inhabitants of a rainforest called FernGully fight to save their home that is threatened by logging and a polluting force of destruction called Hexxus.
Sunday 18th – Stencil Making @ 6pm
Wednesday 21st – Rootbeer + Rev – Shut Down ALEC! @6:30pm
Info: www.azresistsalec.wordpress.com
Friday 23rd – The Elected Officials Show – 8PM
Saturday 24th – Keep Your Laws Off My Body! Our Bodies, Our Choice! Info & Skills-Share, Action Planning & Discussion on Protecting Trans and Womyn's Reproductive Rights, 1pm – 5:30pm
Saturday 24th – community fugitive/know your rights/security culture – 6pm
Tuesday 27th – Movie Night: Tank Girl @ 6:30pm – Rated R
Events subject to change – check www.taalahooghan.org.
Political Prisoners' Birthdays in September
Please forward this to anybody you think would be interested.
Hello Friends and Comrades,
Here is the political prisoner birthday poster for September. As always,
please post this poster publicly and/or use it to start a card writing
night of your own.
Leonard Peltier has recently been put in solitary confinement. In addition
to the isolation he has suffered since June 27, he now faces a
disciplinary transfer. For his birthday this year help put pressure on the
Bureau of Prisons by calling and writing letters ands sending emails. All
of the information is at:
http://www.whoisleonardpeltier.info/alert.htm
Also, please keep writing to accused Earth Liberation Front activist
Justin Solondz who has just been extradited to the United States after
spending years in prison in China.
Please keep in mind that Justin is pre-trial and that the crimes with
which is charged are all mere allegations.
Justin Solondz #98291-011
FDC SeaTac
Post Office Box 13900
Seattle, Washington 98198
We just posted an excellent essay by Viki Law entitled, Where Abolition
Meets Action: Women Organizing Against Gender Violence. It's well worth
checking out.
Until Every Cage Is Empty,
The Chapel Hill Prison Books Collective
prisonbooks.info