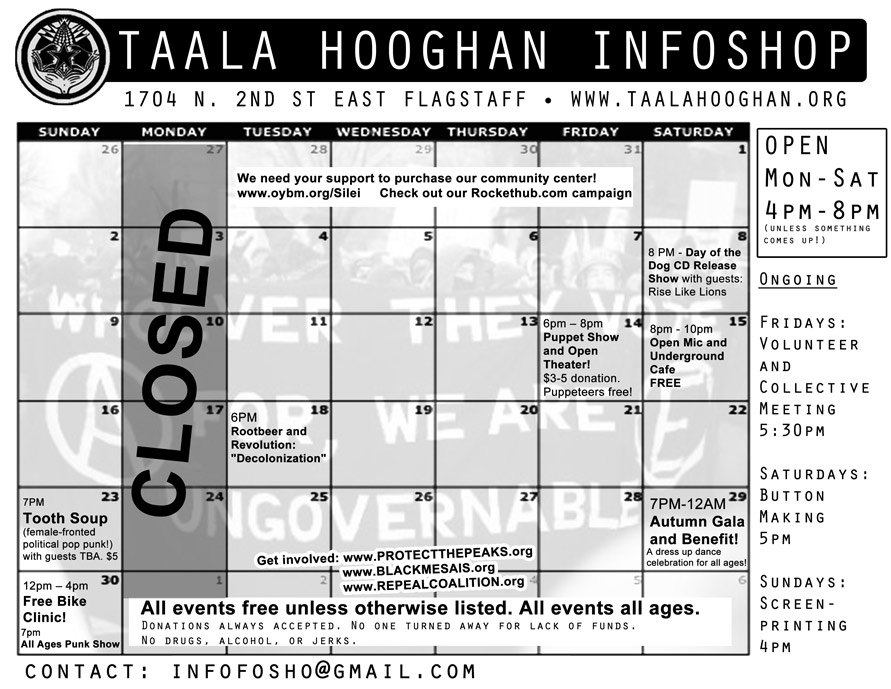 This month we are working hard to raise funds for an initial down payment on our community center! Please support our efforts: http://www.rockethub.com/projects/10536-silei-community-empowerment-project
Ongoing:
Every Friday- Volunteer and Collective Meeting 5:30pm
Every Saturday- Button Making 5pm
Every Sunday- Screenprinting 4pm
Silent Auction from Saturday 9/1- Thrusday, 9/6 at the Taala Hooghan Infoshop! Gift certificates, bikes, artwork, and more! Auction is open for bidding every day from 4-8pm, closes for bidding 9/7 after first Friday artwalk.
Saturday,  September 8, 8 PM - Day of the Dog CD Release Show with guests: Rise Like Lions
Friday, September 14, 6pm – 8pm Puppet Show and Open Theater!
Socks, shadows, dummies, marionette…all creations welcome! All submissions are encouraged for this open-mic style puppet theatre. Beverages and snacks provided, as well as musical hosts. $3-5 donation. Free to puppeteers!
Sat, September 15, 8pm – 10pm – Open Mic and Underground Cafe
Tuesday, September 18th, 6PM – Rootbeer and Revolution: "Decolonization"
Sunday,  September  23, 7PM – Tooth Soup (female-fronted political pop punk!) with guests TBA. $5 suggested donation at the door, nobody turned away for a lack of funds.
Sat, September 29, 7PM-12AM Autumn Gala and Benefit!  A dress up dance celebration for all ages! Free, Donations benefiting the space welcomed.
Sunday, September 30, 12pm – 4pm Free Bike Clinic! Skillshare on basic bike maintenance, donations greatly appreciated!
All Ages Punk Show 7pm