We're officially 10 years old today.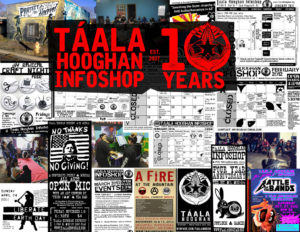 Ahe' hee' la to everyone who has supported, played, stayed, agitated, debated, hated, gyrated, offered themselves to the grinding challenge that marks collective organizing, and everything in between at our space.
Over the years we have possibly hosted close to a thousand events with countless numbers of folx coming though our doors.
In 2007 community members and an Indigenous youth empowerment media collective called "Outta Your Backpack Media" (OYBM) came together with a vision to establish a space that cultivates active resistance to capitalism, environmental & social injustices in and around our community of Flagstaff. Since then Táala Hooghan infoshop has hosted all ages shows, film screenings of hard to find political movies, silkscreening, D.I.Y. art skill shares, and provided meeting and event space for other organizations.
It hasn't been easy, from our start in 2007 determining how to challenge and not allow for replication of white-anarchist spaces, pay for shit and have the space sustain itself, to being forced to (sometimes very painfully) rethink/re-approach transformative and restorative justice in the face of inter-personal and inter-collective struggles. Ultimately, as Táala Hooghan (flat top roof home) at the base of Dooko'oosliid, we have done everything to uphold that initial vision of a space to empower radical Indigenous struggle and we're still here.
When we initially started on 4th St, the nature of the size kept everything visceral and we outgrew the space very quickly. At times our collective was 2 people, at others it was 16, but we kept the embers going. When we moved downtown briefly (11 S. Mikes Pike for a 4 month spell) the dynamics changed as all the folx who have viewed the east side of Flag as "undesirable" finally came through our doors, but being rooted on the eastern part of Kinłani was always where our hearts have been.
We've been at 1704 N 2nd st for 7 years and though the infoshop collective ceased to function in 2014, Outta Your Backpack Media collective, the initial driving force of the infoshop, and a small crew of volunteers has kept the fires burning. We've re-oriented the infoshop as a kind of conflict infrastructure, and held it down with a focus on empowering Indigenous folx and accomplices with direct action skills and resources. We've continued to provide essential gear for unsheltered relatives on the streets, benefit concerts, produced zines, and open doors for organizations in need of the resources we still provide: meeting space, action & art materials, our massive lending library and zine archive, and much, much more…
We are still only open when we feel like and may at some point grow another collective when the time is right. But for now we operate with the same intention and ferocity as when we started and we have no plans on stopping.
We've re-initiated our website and are in the process of redesigning it for our 10 year marker.
You can read the first article on our space here: https://www.nhonews.com/news/2007/oct/30/native-youth-help-create-media-space-for-communit/
#Indigenousradicalspacesarenecessary